Pastoral Staff
Rev. Tom Hamilton · Pastor
Rev. John Jimenez · In Residence
Mrs. Gina Beal · School Principal
Nancy Becerra, · Director, Religious Education
Mr. Matthew A. Shea · Pastoral Associate
Homebound, Hospitalized and R.C.I.A.
Ph: 415.731.9918
Dave Lorentz · Youth & Confirmation Minister
Email: youthminister@sgparish.org
About St. Gabriel

Parish Mission Statement
As a worshipping, believing, and caring community, St. Gabriel Parish participates in the mission of Jesus Christ, remembered most intensely at Sunday assembly through proclamation of the Word and the sharing of the Eucharistic meal. This community so nourished lives its faith in prayer, education and outreach.
Dear Friend,
St. Gabriel is a Catholic Parish Community with a rich history located in the Sunset District of San Francisco. The parish grew out of the sand as the city expanded and created new homes close to sixty years ago. From its earliest days, St. Gabriel was a community where young families were welcomed. Thousands of St. Gabriel's youth are now the active parents and adults of many other parishes in the Bay Area and beyond.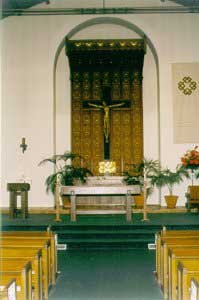 St. Gabriel today has changed some from the early days. Our community has people from numerous ethnic and national backgrounds. In many ways we mirror the city of St. Francis. It is the commitment of the Parish Staff and Pastoral Council that all be welcome here. Together we participate in the many varied activities of parish life. Most of all we join together in our simple but beautiful (some call it mission-style) Church to hear God's word and be strengthened by the Eucharist.

In keeping with our heritage, St. Gabriel desires and tries to have a special place in its heart for children. Through our fine Parochial School, Religious Education Program and other Parish centered activities, many adults in the community are able to bring their wisdom, hope and faith to the children.

If you are seeking specific information about the parish, I hope you find it here. If you are exploring and wondering about communities, parishes or houses of worship, welcome to our site.

You will always be welcome in that lovely Church on 40th Avenue between Ulloa and Vicente.
Peace,




Tom Hamilton
Pastor
Parish activities >>
Masses and Sunday School Schedule >>
Ministries and organizations >>
Back to Home page >>